Paniyiri, Australia's longest running Greek Festival, will be celebrating its 48th
year in Brisbane in 2024. People from all backgrounds are invited to celebrate and immerse themselves in Greek culture in a vibrant and festive atmosphere. The festival is a two-day spectacular event of food, dance, music, and art. Prepare to be transported to Greece through the sights, sounds, smells and tastes of the festival.
 Visitors can enjoy traditional Greek cuisine from the numerous food stalls and cafes set up throughout the festival, serving up a variety of dishes including souvlaki, octopus, baklava and honey puffs. In addition to culinary delights, Paniyiri offers a rich program of events that includes cooking demonstrations, dance performances, and competitions, all showcasing Greek culture and heritage. This is a family-friendly event which features activities for all ages to enjoy.
 Whether you are Greek, or not, Paniyiri is an event that should not be missed and one that offers a warm and welcoming environment that celebrates cultural diversity.
We acknowledge the traditional custodians of the lands on which we gather, the Turrbal and Jagera people of Meeanjin, and offer our respect to elders past, present and emerging as we all work towards a just, equitable and reconciled Australia.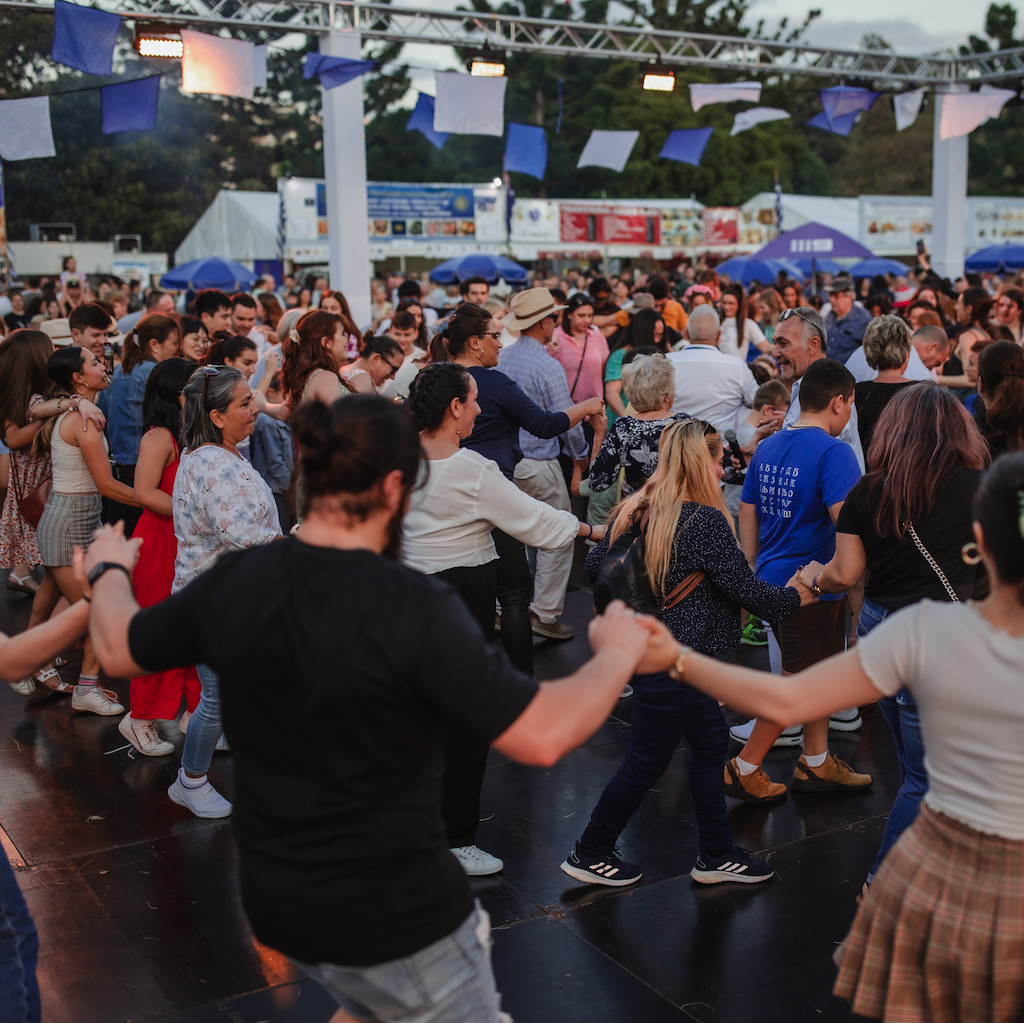 History
Paniyiri is the longest running cultural festival in Queensland, the largest Greek festival in Australia, and a global celebration of culture and community. 
Started in 1976 by a group of passionate Greek Australians who wanted to share their culture and cooking with the wider community, Paniyiri; a not-for-profit event, has grown from a simple Sunday picnic in Musgrave Park, into an extraordinary two day and night festival that attracts up to 50,000 people for a weekend of cultural discovery, dining and dancing. 
After the success of their inaugural year, the Paniyiri committee decided it was their musicians and dancers who would bring this celebration of Greek culture to life!  Which led to the creation of Brisbane's first Hellenic dance club. The Hellenic dancers performed for the first time in 1978, showcasing traditional dances in traditional costumes from the various regions of Greece, and have participated at every Paniyiri Festival since! Their passionate performances, supported by the stirring and soulful traditional Greek music, now a huge drawcard for this deeply authentic festival. 
And the incredible food on offer that Paniyiri is famous for, showcases not only Greece's incredible culinary history which has evolved over thousands of years, but offers a lesson in Greek life where food is as important as family.